Over the past five years I've tried countless (seriously countless) "clean" mascaras and we finally created one that not only nourishes my lashes, but makes them look longer and fuller.  Most "all natural" mascaras are too dry on my lashes and end up leaving little clumps onto my cheek bones.  Click on the pic to learn more!  
---
• about us
At CreekBaby our passion is to inspire you to explore natural beauty with us!  Learn more about how we create these simple, safe and unscented beauty blends in this video.  
---
We are so Thankful for your Awesome response to our NEW apparel line! We designed our pieces as a reflection of a common culture: exploring natural beauty.  So whether you are headed out the door to the market or strapping your back pack on for your next adventure, you can be reminded that we are ALL Creek babies exploring the world around us and we should never stop!    We will ONLY sell a limited number of pieces before changing it up so you better SHOP now!
---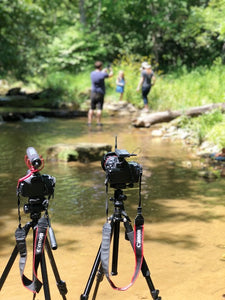 It's about time you hear from our hearts what makes CreekBaby - CreekBaby!  So with the help of Derek Huber Marketing we are taking the video cameras exploring...Stay tuned as we plan to reveal everything this September!
---
Love this beauty spread by Girls' LIFE Mag! And super excited to see our Rock Soap!